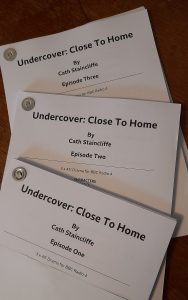 I've written a number of radio dramas over the past fifteen years, most of them crime or mystery series. You can see the full list on my TV and Radio page. And during the last year I've been working on Undercover: Close To Home, a new three-part thriller for BBC Radio Drama. While the original idea for the story has stayed the same, the scripts have been through many rewrites with changes to the beginning, the ending and much of the middle! As well as alterations to the weight given to some of the characters and developments in the themes.
There's a lovely intimacy in scripting for radio, with the writer working alongside a producer/director (in my case the wonderful Nadia Molinari) to develop the piece, and then being closely involved in the recording process. At that stage the actors work their alchemy, along with the geniuses in sound design and recording. It's a pleasure witnessing them bring the story to life and make it their own. We've a great cast signed up and I'm so looking forward to that experience later this month.
Undercover: Close To Home will air on BBC Radio 4 at 2.15 pm on June 8th, 15th and 22nd.