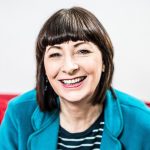 Cath was brought up in Bradford and hoped to become an entomologist (insects) then a trapeze artist before settling on acting at the age of eight. She graduated from Birmingham University with a Drama and Theatre Arts degree and moved to work as a community artist in Manchester where she now lives with her family.
Looking for Trouble, published in 1994, launched private eye Sal, a single parent struggling to juggle work and home, onto Manchester's mean streets. It was short listed for the Crime Writers Association's John Creasey (New Blood) Dagger, serialised on BBC Radio 4, Woman's Hour and awarded  Le Masque de l'Année in France. Cath has published a                                                                                 further seven Sal Kilkenny mysteries.
Cath is also a scriptwriter, creator of ITV's hit police drama, Blue Murder, starring Caroline Quentin as DCI Janine Lewis, which has sold worldwide in places as diverse as Fiji, Iceland and Yemen. Cath's Blue Murder are published by Joffe Books. Cath  was commissioned to write the Scott & Bailey books based on the popular ITV detective show. Her radio work includes drama series, Legacy, featuring brother and sister heir hunters, and she was a writer on Danny Brocklehurst's Stone detective drama.
Trio, a stand-alone novel, moved away from crime to explore adoption and growing up in the 1960s. Cath's own story, of tracing and being re-united with her Irish birth family and her seven brothers and sisters, featured in the television documentary Finding Cath from RTE.
Cath is writing a series of stand-alone novels where ordinary families find themselves caught up in extraordinary events, giving a voice to victims, the bereaved, survivors and witnesses.
In addition to the New Blood Dagger, Cath has been short listed (three times) for the CWA Dagger in the Library, and twice for the Short Story Dagger. In 2012 Cath and Margaret Murphy were joint winners of the Short Story Dagger, for their stories, Laptop and The Message, in the Murder Squad anthology Best Eaten Cold. Letters To My Daughter's Killer was selected for Specsavers Crime Thriller Book Club in 2014 and featured on ITV3's Crime Thriller Club. Cath was a joint winner of the WGGB Best Radio Drama Award 2019  for Stone Series 7. Running Out of Road was short-listed for the eDunnit best novel Award at CrimeFest 2022.
Cath is a founder member of Murder Squad, a virtual collective of northern crime writers. She is an avid reader and likes hill-walking, messing about in the garden and dancing (with far more enthusiasm than grace).