LATEST TV and RADIO NEWS
UNDERCOVER: CLOSE TO HOME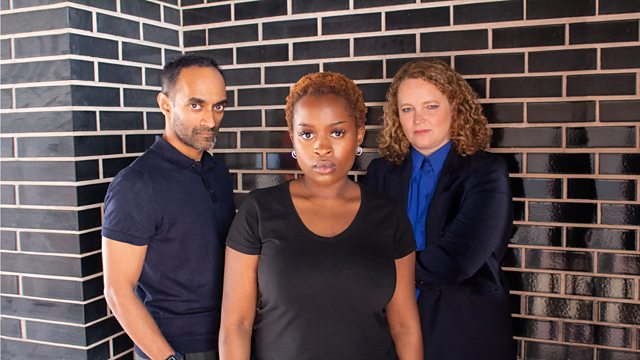 Undercover: Close To Home, my three-part thriller aired in June on BBC Radio 4. And is now available on BBC Sounds. Grace Monroe goes undercover as a live-in nanny at the home of Ben Curtis whose wife Lydia has been missing for a year. Making herself indispensable in the intimacy of the family home, Grace hunts for clues as to what befell the mother of two. It's a game of cat and mouse with Grace prepared to do whatever she must to win Ben's trust.
Described as 'Excellent, high-octane, human drama' by the Radio Times, I've been delighted with the reception it's had. Massive thanks to the cast, director Nadia Molinari and the sound production team. Happy listening!
TV
BLUE MURDER
Cath is the creator of ITV's hit police series, Blue Murder, which debuted with an audience of 8.4 million and ran for five series from 2003 – 2009 starring Caroline Quentin as DCI Janine Lewis. Cath wrote the following episodes of the show:
Blue Murder: 2 part pilot (2003)
Blue Murder S2: Hit & Run (2004)
Blue Murder S3: Make Believe (2006)
Blue Murder S4: Desperate Measures (2007)
Blue Murder S5: Tooth & Claw (2009)
Blue Murder has been sold around the globe and the complete series is available on DVD. Buy here.  The books based on the series are now out with Joffe Books. Buy here.
Letters To My Daughter's Killer
 was chosen for  
Specsavers Crime Thriller Book Club
 2014.  Six titles featured in the weekly series 
Crime Thriller Club
 on ITV3  running up to 
The Specsavers Crime Thriller Awards
.  We had great fun filming my episode in Manchester – though the use of Police Crime Scene Tape and white SOCO suits caused some consternation for the neighbours!  It was a real honour to have the book selected. 
Happy reading!
YOUTUBE/FACEBOOK/WEB VIDEOS
Celebrating 21 years of Murder Squad and the release of our new anthology MANY DEADLY RETURNS in a zoom event with Barbara Peters at The Poisoned Pen. Catch it on FB  on YouTube or podcast.
Bay Tales Live #3  Two Authors Chat – Ann Cleeves and Cath Staincliffe in conversation. Recorded  Wednesday Feb 17th 2021.
Tracy Talks To
…
Mark Billingham
,
Cath Staincliffe
and
Amanda Jennings
. Recorded Wednesday Feb 24th 2021.
Northern Noir panel from Chorlton Book Festival 2020  with Chris Simms, Caroline England, Paul Finch and Rob Parker.
Partners In Crime Podcast – in conversation with Adam Croft and Robert Daws.
Mean Reviews at compulsivereaders.com – what was my worst ever review? See me read it here.
Restorative Justice Dialogue 4  – in conversation with Mary Munro looking at Letters To My Daughter's Killer – fiction tackling the need to talk and get answers after homicide.
I'm a guest on Rebecca Bradley's YouTube Channel, discussing writing about victims in crime fiction, in a bite-sized interview.
RADIO
STONE – RADIO DRAMA
All 9 seasons are now available via BBC Sounds.  And you can now listen to Stone Series 1 – 4 on audiobook.
WGGB BEST RADIO DRAMA
I'm absolutely delighted to have won the WGGB Best Radio Drama Award 2019 along with Martin Jameson, Richard Monks, Vivienne Harvey and Alex Ganley for Stone Series 7. Massive thanks to series creator Danny Brocklehurst and to the wonderful BBC Radio Drama North team, producer/directors Nadia Molinari and Gary Brown and sound designer Steve Brooke.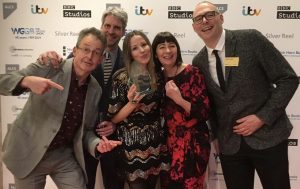 STONE
Intelligent detective series tackling morally ambiguous, complex and challenging subjects
created by Danny Brocklehurst and starring Hugo Speer as DCI John Stone.
Stone – The Bridge (2010) Afternoon play BBC Radio 4
Stone – Sleep Tight (2012) Afternoon play BBC Radio 4
Stone – Episodes 5&6 (2018) Afternoon Play BBC Radio 4
LEGACY
Drama series following a chalk-and-cheese, brother and sister duo of heir hunters whose searches take them into the past lives of families torn apart by events.
Legacy (2009) Afternoon play BBC Radio 4 (starring Maxine Peake and Tony Mooney)
Legacy – Blood in the Mountains (2011) Woman's Hour Drama BBC Radio 4 (starring Claire Keelan and William Ash)
Legacy – High Green Walls (2011) Woman's Hour Drama BBC Radio 4 (starring Claire Keelan and William Ash)
Legacy – Eden (2013) Afternoon drama BBC Radio 4 (starring Jo Hartley and William Ash)
Legacy – Suspicious Minds (2013) Afternoon drama BBC Radio 4 (starring Jo Hartley and William Ash)
Look Sharp (2008) Afternoon play BBC Radio 4 (starring Suranne Jones)
FROM FACT TO FICTION
The Cold Cold Snow (2013) BBC Radio 4
BBC WOMAN'S HOUR INTERVIEW
I was interviewed on BBC Radio 4 Woman's Hour by Jenni Murray about Fear of Falling and the challenges of adoption listen here