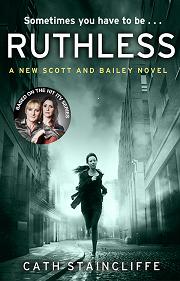 It's been a very special week with Letters To My Daughters Killer featured on ITV3 Specsavers Crime Thriller Club on Monday and Ruthless, the third Scott and Bailey novel, out today 9th October to coincide with the new TV series. Today is also Super Thursday. 315 new titles will be in the bookshops and you can find out more about the special day here and here. It's just three years since I started writing the novels based on the TV show.  I was a big fan of Scott & Bailey before I was approached to write a prequel and it was an honour, as well as a terrifying prospect, to be asked.   I loved the way the series captured female friendships – and fallings out – and the three strong women at the heart of it who are all gifted at the job they do.  Also impressive was the way the investigations were faithful to police procedure and reflected a Manchester I knew.  I'm delighted to be receiving some wonderful reviews for Ruthless.  If you'd like a taster of the novel you can hear an extract from the audio book version.
In case you missed Monday's Crime Thriller Club, it included me talking about writing Letters To My Daughter's Killer and a critique of the book from authors Mark Billingham, Sophie Hannah, Kate Mosse, Peter James and Val McDermid as well as guest actor Stephen Tompkinson and host Bradley Walsh.  I was really thrilled by the responses and have been walking on air ever since! You can watch the show on itvplayer - it is Episode 4. The awards ceremony is on October 24th in London and screened on 27th October.  One of the six books selected for the Crime Thriller Book Club will be chosen as best read.  Details of all the shortlists for the awards can be found here.
Now – where's that bubbly?