It is always nerve-wracking waiting for responses to a new book but I think this year has been even more challenging for many of us (me included) as my latest title came out during the pandemic when live events weren't possible, bookshops and libraries were closed and distribution centres working at seriously reduced capacity. And we were all dealing with the shock and disruption and the awful reality of coronavirus.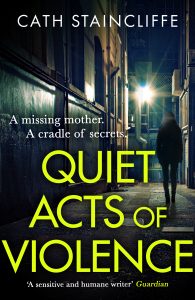 I was very pleased to have support and help from some wonderful book bloggers including Tracy Fenton at Compulsive Readers who designed a lovely blog tour banner for me (after getting a glimpse of my own pitiful attempt!) Early reviews from these bloggers were a real boost: 'a topical, emotionally charged and compelling story' Compulsive Readers; 'combines excellent writing with a clear-eyed view of contemporary issues' CRIMEPIECES; 'A powerful story, excellently written with compassion and painful honesty. Outstanding' Random Things Through My Letterbox; 'An unputdownable read, this story delivers on all levels' Karen's Book Bag.
And these lovely reactions came in from the press: 'Strong, damaged, lippy northern female police officers — edgy Jade and stressed Donna do not disappoint … Ordinary people are made to matter, as the case reveals some difficult truths' Sunday Times Crime Club and 'Staincliffe is one of the few authors who can combine political anger with great entertainment and somehow never lose sight of either' Morning Star.
So a big thank you to everyone who has reviewed, bought, borrowed or downloaded Quiet Acts of Violence. And a big cheer to those who encouraged me to revisit the detectives from The Girl in the Green Dress. I hope to return to Donna and Jade again before so very long.