Half The World Away is published on June 4th in hardback and ebook and we've now reached Stage 5 of the process of making a book – the creation of the book cover. Here is it.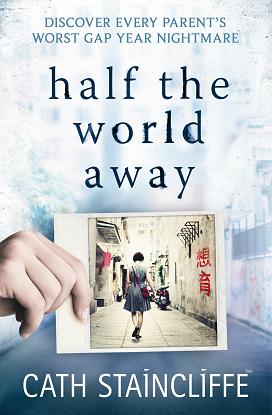 I'm delighted with it. In general authors don't get much opportunity to contribute to discussions about the book jacket but in this case I was able to see some early draft ideas and give my responses. Already people have said that it draws them in and makes them keen to know more, which is exactly what you want from a book cover. I think it also works particularly well because it reflects the content of the story, we can see there's a Chinese element to it and the blurring of the letters in the title combined with the shout line at the top signals the type of story you can expect. Also, and you'd only know this after reading the book, it echoes very clearly some of the most suspenseful chapters in the narrative.
Once a book is written it has its own identity. As a writer all my books feel distinct and different to me, and the hope is that when a cover is created it will match the identity of the book in my head. This doesn't have to be literal, a cover can suggest mood or location or it can reference similar titles in the genre (I wrote about this in the past when some of my books were part of the 'single female eye' trend kicked off by The Girl With The Dragon Tattoo). I'm not aware of this new cover being part of a trend – but maybe I'm just not alert to it yet. Anyway big thanks to the designer and the team at Little, Brown and Constable & Robinson who've worked so hard on this. And happy reading everyone.