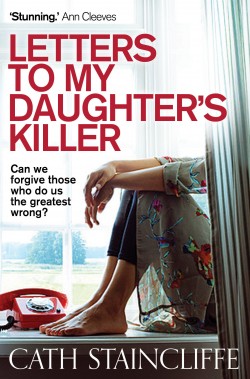 Grandmother Ruth Sutton writes to the man she hates more than anyone else in the world: the man who brutally murdered her daughter Lizzie four years earlier. Ruth's burden of grief and hatred has only grown heavier with the passing of time and her avid desire for vengeance ever stronger. In writing to him in prison, Ruth hopes to exorcise the corrosive emotions that are destroying her life, to find the truth and with it release and a way forward. But whether she can truly forgive him is another matter – and the letters are her last, best hope.
---
http://www.amazon.co.uk/Letters-To-My-Daughters-Killer/dp/1780335717/ref=tmm_pap_title_0
http://www.bookdepository.com/Letters-My-Daughters-Killer-Cath-Staincliffe/9781472117304
http://www.waterstones.com/waterstonesweb/products/cath+staincliffe/letters+to+my+daughter27s+killer/10170940/
http://www.amazon.co.uk/Letters-To-My-Daughters-Killer-ebook/dp/B00GHK784I/ref=tmm_kin_title_0
---
Reviews
'Groundbreaking in terms of the novel's atmosphere … in turns deeply disturbing, emotive, poignant, affecting and, ultimately, a novel filled with such feeling and pace it is the very definition of a one-sitting read' welovethisbook.com
'Anger gives way to a poignant quest for understanding, making this thought-provoking and original book truly powerful' Sunday Mirror
'An immensely subtle, sad and gripping tale, beautifully written' Literary Review
'A portrait of loss and rage, less focused on the mechanics of the crime than the emotion lurking beneath the surface.' Cape Times, South Africa
'Extremely well written, both intense and believable' newbooks.mag
'a genuine tour de force… a highly original and skilled writer, pushing the boundaries of crime fiction and taking her craft in an entirely new direction' deadlydiversions.com
'Staincliffe has a way of dealing with the toughest of emotional problems that makes them entirely understandable and leaves you aching with pity and terror' bookoxygen.com
'a page-turning, beguiling and haunting novel about grief, guilt and the complex dynamics of forgiveness' Chris Ewan on Writers Read.
'a beautifully written, thought provoking read that is packed full of raw emotion' Shaz's Book Blog
Letters To My Daughter's Killer was selected for the Specsavers Crime Thriller Book Club 2014.